The Gateway EITC Community Coalition provides FREE federal and state tax preparation services for individuals and families earning under $54,000. We are a Volunteer Income Tax Assistance (VITA) program serving low to moderate income families and individuals, seniors, persons with disabilities, and limited English speaking taxpayers who need assistance preparing their own tax returns.

We prepare the following tax forms:
- 1040/1040 EZ with Schedule A, B and C ($25,000 limit)
- Earned Income Tax Credit
- Child Tax Credit
- Missouri Property Tax Credit (Circuit Breaker)

View our 2019 free tax preparation sites here or view our site flyer.

Note: American Sign Language interpreters will be provided at:
- Barr Library on Fridays February 15, February 22, and March 1 from 11am to 4pm @ 1701 S. Jefferson Avenue, St. Louis, MO 63104
- Schlafly Library on Saturdays, March 9, March 16, March 30, and April 6 from 9:00 a.m. to 4:00 p.m @ 225 N. Euclid, St. Louis, MO 63108
- Greater St. Louis Association of the Deaf on Saturdays March 30 and April 6 from 9:00 a.m. to 1:00 p.m. @ 2190 Creve Couer Mill Road, Maryland Heights, MO 63043. See flyer
These are walk-in sites. No appointments will be taken.
Thank you to the City of St. Louis Office of the Disabled for providing support for the interpreter services at Barr and Schlafly Library.

For other free tax preparation sites across the St. Louis region. Call the United Way's 2-1-1 line.

WHAT YOU NEED TO BRING TO TAX PREPARATION SITES (click here for complete list):
 All W-2's and Forms 1099
 Social Security Cards or Individual Taxpayer Identification Numbers (ITIN) for all
family members
 Valid picture ID for taxpayer and spouse (Driver's License, State ID, Passport)
 If married filing jointly – both spouses must be present to sign
 Copy of previous year's tax return is helpful but not required
 Form 1095-A (proof of health insurance from Marketplace, if purchased from Marketplace)
 Form 1098 or real estate tax receipt
 Proof of unemployment compensation
 A copy of a "voided" check or bank account and routing numbers for direct deposit
 Proof of child care expenses with EIN or social security number of provider
 Parcel number for property taxes (Illinois homeowners only)
 Proof of rent/real estate taxes paid (for Missouri Property Tax Credit filers - circuit breaker)
 Landlord letter (for Missouri Property Tax Credit filers - circuit breaker)
Find out about 2018 Tax Year income guidelines and refund limits for the Earned Income Tax Credit at our EITC page.
Our mission is to strengthen the financial security of low to moderate income families by providing free tax preparation and supportive services which promote the use of tax refunds for saving and asset building. In 2018, we filed 8.842 tax returns and returned $9.1 million in refunds back to our community! The estimated total savings from preparer fees alone was $2.3 million. We have come a long way from our first year of operation. In 2003, we filed only 301 returns. Over the past 14 years we have filed 88,598 federal returns worth over $89.4 million in refunds. All at no cost to our clients!
For more information on our organization, view our most recent annual report.

Have you done a paycheck "check-up"? With tax reform going into effect for the 2018 tax season (starting Jan. 2019), you may not have taken enough withholding taxes out of your paycheck. Check out the IRS Withholding Calculator to determine the right amount.



Do you feel comfortable doing your own taxes? ... hate having to buy new tax software every year?

If your income is less than $66,000, just click on MyFreeTaxes.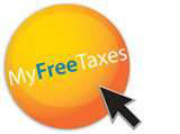 Easy. Free. Tax Filing Online.
Prepare your Federal return and up to 3 state returns, e-file them and get your refunds by
check or
by direct deposit.If you qualify for the Earned Income Tax Credit or your adjusted gross income is below $33,000, the Center for Economic Progress, through a partnership with the IRS and Intuit's Turbo Tax, offers a free on-line opiton for filing your tax return. To get started here.
---
Won't you join with us as part of our community effort and
have a great
time
helping others?
We need tax preparers and volunteers to greet, handle interviewing and
intake,
assist with outtake,
and technical support.
What's In It For You?
Free Volunteer Training, Free Tax Preparation for you and members
of your family, networking opportunities, and a great resume builder.

Click here to learn more about these volunteer opportunities.

​GECC is a 501(C)(3) tax exempt non-profit organization. Donations are eligible for tax deduction based on IRS rules and regulations. Our most recent IRS Form 990 can be accessed here.If you would like to donate equipment, services, or have questions about financial donations, please e-mail Eric Schneider at eschneider@gatewayeitc.org
​
Questions? Call 314-539-4062 or
e-mail
info@gatewayeitc.org
---